Tiled Warmer Roof Buckinghamshire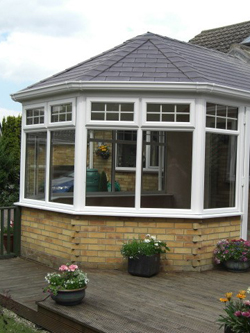 Making your Conservatory an All-Year-Round Room
Do you have a conservatory but want to find a way to regulate the temperature all year round so that you can use it constantly? McLean's Glass are now in a position to offer the Leka Systems Warm Roof that will help you to enjoy the space you have whenever you want to.
The Leka System was created with heat regulation in mind but it also offers a stylish addition to your property and can even be matched with the colour of you roof to give a seamless finish. Traditional conservatory roofs are made from glass or plastic meaning that insulation is at a causing you to need to invest in conservatory heaters for the winter and fans for the summer. With the Leka Systems roof you do not need to worry about this as it will provide insulation and light all while regulating the temperature of the space.
The Leka System
The great news is that when you choose to have your conservatory converted to a Leka System it can be completed quickly with minimal fuss to you and your neighbours. If you do not have a conservatory yet but are planning to have one installed then we can help with that too! Just let us know where you are with your conservatory plans and we will help you to plan everything.
The Leka System is energy efficient and rated A+ so you can reduce your energy bills and save money, in time this roof will pay for itself. It is also fully compliant with all the current building regulations so that you have real peace of mind that what you are installing is high quality and safe to enjoy for many years to come.
Long-lasting Tiled Warmer Roof
The roof boasts a structurally tested GPR framework and uses no timber at all so that you can be confident that there will be no rotten wood or water absorption that leads to leaks. This commitment to quality can be seen and felt, giving you a room that will be the envy of the neighbourhood.
With a range of colours to choose from, this tiled roof could be the answer to creating a more functional space within your home that can be used all year round. What are you waiting for? Contact McLean's Glass today to arrange a no-obligation quote and to discuss your specific requirements; we cannot wait to hear from you!