Fascias Milton Keynes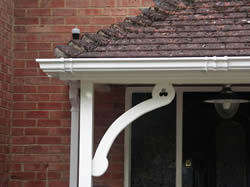 Fascias
Fascias in Milton Keynes (often referred to as fascia boards) offer an additional level of protection to the structure of your roof space as well as giving your roof an attractive and unified appearance that will look its best in all weather conditions.
Perfect Fasicas installed for your home in Milton Keynes
Double Glazing Buckinghamshire have a full range of fascia board to improve the look of your home and reduce essential maintenance.
What are fasicas?
The fascia board is the protective board that covers the ends of the timber roof joists to stop the ingress of rain or snow into the roof and wall cavity of your home. It is usually combined with soffits to close off the gap between the felt, tiles and wall of the property.
Timber fascias have been used traditionally in Milton Keynes to enhance a home's exterior. This has required significant maintenance to ensure your home does not encounter problems with rot, rust, mould and insects, and to ensure your home continues to look smart and clean.
That's why we've developed a range of long-lasting, low-maintenance fascia boards that all come with a 10-year guarantee.
Now you can dramatically transform the exterior of your home with Double Glazing Buckinghamshire, confident that it'll keep its looks for many, many years to come and with the minimum of maintenance, meaning no more painting.
All of our fascias are available in a range of styles and finishes again to match and compliment your home.
You might also be interested in our sofits, cladding or bargeboards.